BACK
Since 2018, 'Netzwerk Konnakol.de' is teaching & researching advanced southindian time-counting techniques. We developed a course module-system with various contents specialized for typical needs of western musicians and composers, aimed at students, professionals and step-by-step courses for beginners. In the 'carnatic module' the traditional usages of structures can be learned, too. (Read also our introductory text).
VIDEO

: COURSE CONTENTS
COURSES - TRANSFER TO WESTERN STRUCTURES
Extracted 'counting-techniques' from the carnatic-system'. Adopted to western rhythmic structures and situations.

CHECK FOR UPCOMING COURSES 🇬🇧 🇩🇪
1 - BEGINNER

Course 1.1 Course 1.2 Course 1.3
Introduction, Backgrounds, first steps, Basic Materials: metric Handgestures, Phrases (Angas, Talas, Jathis), Basic Gatis (Tuplets, x:1)
2 - MEDIUM

Course 2.1 Course 2.2 Course 2.3
New Tala-Types (5, 3, 9, 11 .. 29), Tuplets, Rhythm-Cells, further Gatis (x:y), polyrhythmic Re-Phrasing-Techniques, introduction: Nadai Bhedam
3 - PROFI

Course 3.1 Course 3.2 Course 3.3
Composing with Rhythm-Cells, transcribing, creating own Talas, irregular groupings, Nadai Bhedam, using digital rhythm-tools, special exercises
COURSES - CLASSIC CARNATIC
Traditional structures & forms of classic carnatic music - as taught to Indian students.

CHECK FOR UPCOMING COURSES 🇬🇧 🇩🇪
CLASSIC CARNATIC

Course C.1 Course C.2 Course C.3
Tha-Thi-Thom-Nam, Puratall, Adi, Khanda Chapu, Adi Tala Solo, Rupaka Solo, Mora, Korvai
COURSES - FLEX
On demand: Combinations of contents or focus on special techniques.

CHECK FOR UPCOMING COURSES 🇬🇧 🇩🇪
FLEX

Course F. Course F.. Course F...
See contents of Modules 'Transfer' and 'Classic'
BONUS

Handouts, Transfer oriented materials, Scripts, Scores/Notations, Composed exercises, Insider knowledge & tricks of our carnatic experts


BOOKING INFOS

After payment, you will automatically get the Zoom-Video Conference Login Data for the event via E-Mail. Minimum number of participants: 6 [Full refund in case of too few participants. We then will contact you via E-Mail after end of Ticket-Selling (~3-1 day(s) before the event)]

VIDEO: COURSE CONTENTS

Watch below our course video teaser.
For further insights see all videos on YouTube.

YOUTUBE
INFO-GRAPHIC - GERMAN

In the zoom-able graphic below, the 3 'transfer-modules' and the 'classic carnatic module' are listed.
[graphic in german]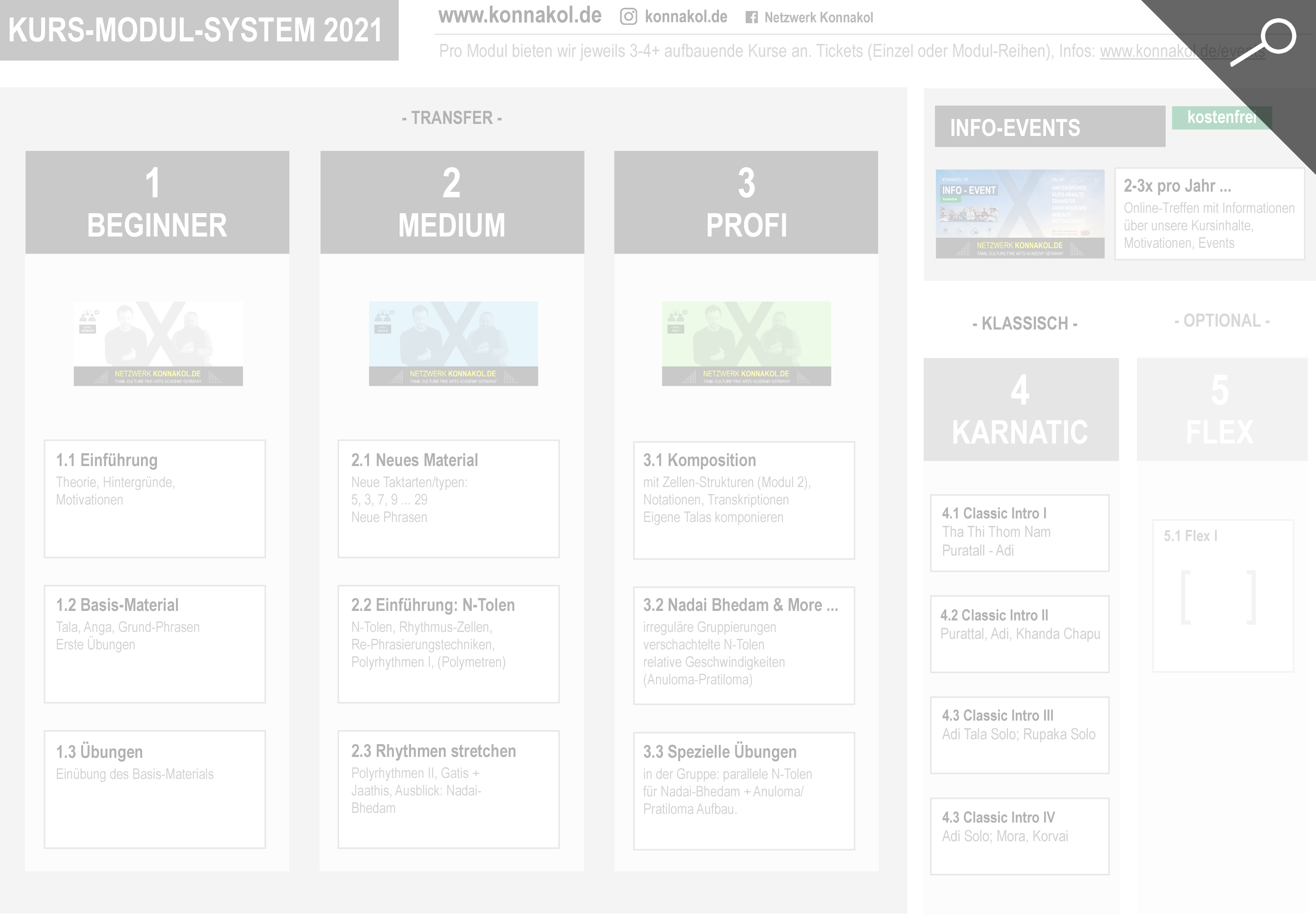 SOME PAST EVENTS 2018 - 2021

Deutsch-Amerikanisches Institut Tübingen (2018)
Online Course Series 2021 TCFA Essen, NRW (2021)
Tamil Culture Fine Arts Academy Germany (2018/2019/2020)
Landesmusikakademie NRW (2018/2019/2020/2021)
Hindu Tempel Schwerte (2018)
Übehaus Kray Essen (2019)